Climate change is impacting so much around us: heat, flooding, health, wildlife, housing, and more. WUSF, in collaboration with the Florida Climate Reporting Network, is bringing you stories on how climate change is affecting you.
Solar panels are coming to homes in Hillsborough's historically Black neighborhood Progress Village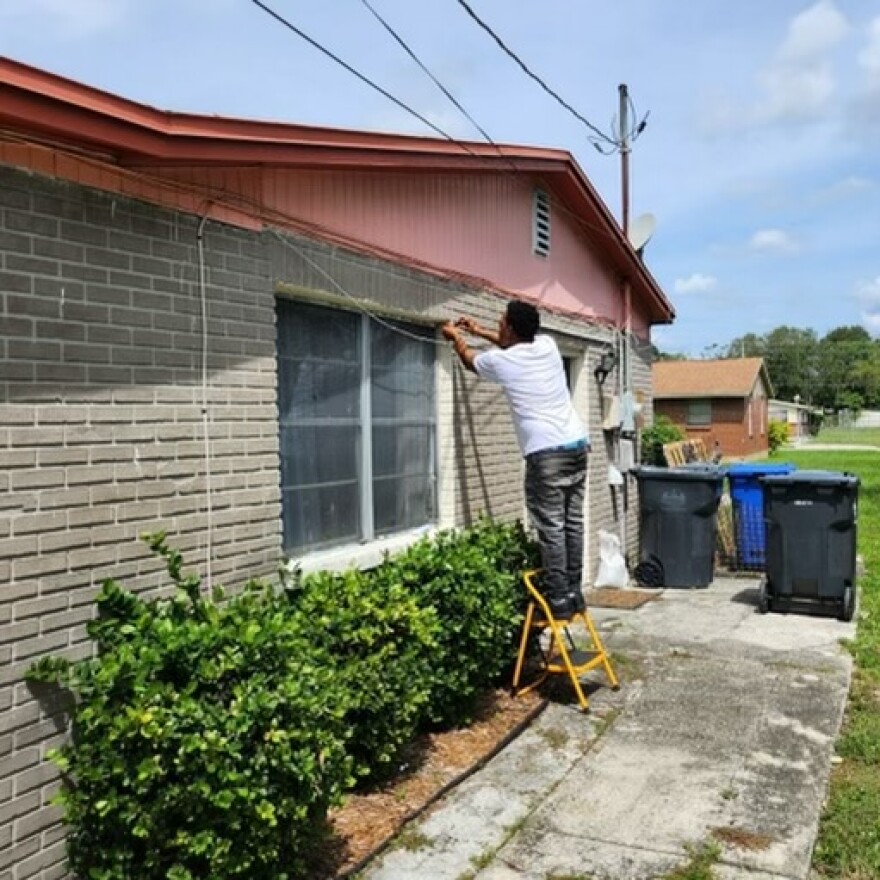 Residents of Progress Village are going solar as part of a microgrid project for residents there. We speak to the leaders behind this initiative.
Three families living in Progress Village are getting solar power for their homes.
Activists say the historically Black suburb in Hillsborough County was created through redlining, which has come to mean racial discrimination of any kind in housing. And they say Progress Village has been subject to environmental impacts from nearby industrial operations and natural disasters.
So now, a new public-private initiative headed up by local advocates called Project Green Strike aims to make this neighborhood self-sufficient, especially as energy rates continue to rise. Reformed convicts make up the workforce behind the installation.
Energy burden
Walter L. Smith II of the Tampa Bay Disaster Resiliency Initiative said he wants to reduce the energy burden, or the percentage of gross household income that goes toward the paying the cost of power bills. For low income households, the burden is three times higher than that of non-low-income househoulds, according to The U.S. Department of Energy.
"There are too many instances in frontline communities where we have people who are on that list of public health issues and things of that nature, that are devastating to those communities. And we want to make certain that we were on the frontline of the battle to make certain that people are able to live their lives… a better quality of life. Through Project Green Strike, we are able to do that," said Smith.
"It is a self-sufficiency, self-determination type of program that implements weatherization and solarizing, if you will, those communities so that people will have the opportunity to live that better quality of life, both health-wise, and economically."
The term "frontline communities" means those that experience the first and worst consequences of climate change.
Weatherization
David Carmena is the CEO of Carmena Enterprises Inc., which paid for the first stage of the process: having formerly incarcerated individuals weatherize the three homes.
Weatherizing includes sealing windows and doors, to prevent the cool air from leaking out and using energy efficient light bulbs.
"Progress Village Civic Council selected homes that had various stages of energy burden. We came in, we assessed the home, we weatherized the home, we provided clean energy solutions," said Carmena.
"What's going to happen is that they will provide us with their current and future TECO [Tampa Electric] bills. So that we can see the effect of the weatherization."
They're going to compare a bill from before the weatherization to one three months from now. The next step is to add solar panels to the homes within the next couple months.
Formerly incarcerated
They're also partnering with Craig Powell's group, PowerNet of Tampa to go into the prisons and train individuals on weatherization and solar installation while they're still incarcerated.
"Then when they get out, we will have additional training post-incarceration, and then they will have a living wage. And this is what's important is that the economic impact. They will have a living wage and be hired by my company, and others on weatherization projects," said Carmena.
The third and final phase of the three-year Project Green Strike is to build more wraparound services for formerly incarcerated individuals.
"We're looking at ways where they can integrate into the community. We already identified transitional housing, we're looking at entrepreneurship opportunities," said Carmena.
"We want to develop more than just a worker. We want them to be part of the American fabric… We want them to pass it down and provide opportunities for other previously incarcerated individuals."
Churches and farms
Project Green Strike is also working to bring solar in Black-owned farms and churches.
"The church in the African American community is the hub of everything," said Rev. Jerry Nealy of the Black Farmers Collaborative.
"And so, if we can persuade, educate, and an advocate through churches, then we get to trickle-down to the rest of the community about the real advantages of solar and implementation."
As for farms, he pointed to a model of elevating the solar panels to allow tractors and other equipment to pass through.
"So, you have a new revenue stream for the farmer… We just think that is the overall effort to help our community navigate to really embrace the American dream," said Nealy.
What's next
To fund the next phases, the group hopes to possibly tap into grant funding available through programs like the Inflation Reduction Act.
They three men behind Project Green Strike say they can use these first three homes in Progress Village as blueprint for expanding statewide and even nationally.
Walter L. Smith II said the residents of Progress Village are overwhelmed and happy that they're getting this kind of attention.
"Somebody's working with them to get this done. And finally, here it is... so there's, there's a feeling of relief and elation in the community, and a feeling of hope," he said.